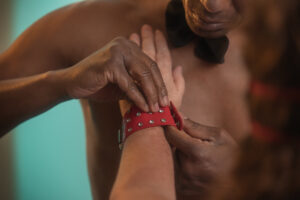 Bondassage ® intertwines, lite bondage with a sensual massage along with lite impact play, sensation play, sensory intensification, and other elements of BDSM/kink for a tantalizing, fun, and safe erotic journey that explores your innermost kinkster. A euphoric journey for the BDSM/kink beginner and seasoned practitioner alike. Coupled with my sensual healing secrets it will make your body quiver with delight while arousing and circulating that healing, rejuvenating sensual energy of the Queen Goddess deep inside of you. If you are unfamiliar with Bondassage click here for a primer on it.
What would it feel like to experience your very own 50 Shades adventure; one specially tailored for your sensibilities? To forget about the outside world, your challenges, career, etc. surrendering to the exquisite sensations of your body as you submerge deeper into exuberant fulfillment with ease?
Savoring enjoyable moments where you indulge your senses, excite the imagination, and embrace a luxuriating escape while savoring each breathtaking moment of an erotic adventure that overcomes inhibitions? To feel something that so many women long to feel but never experience?
The ambiance of the room is set with candlelight, incense, music, etc. Always concerned with your pleasure and safety I inquire about the level of BDSM or kink you are comfortable with my touch; ever careful to not cross your boundaries.
Feathery lite strokes tease, sliding over the bottom of your feet to the calves, thighs, buttocks, and back up to the neck. My strong hands follow tenderly caressing the soft tissues of your body; kneading the harder ones.
Perfectly relaxed with Bondassage and my sensual mysteries, you melt with eager anticipation of what's to come next. A variety of tools under my command are employed.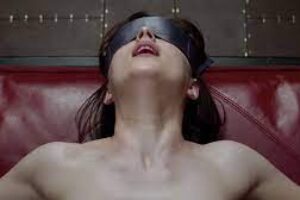 Firm caresses slowly increase the intensity of your pleasure. You begin to tense up as the touch becomes more intimate. I take you right up to the edge of a release. With an ever-engulfing desire to be satiated your breathing becomes shallow. Your back arches, spontaneously moaning with passion. Sensing that the tension in your body has become both titillating and unbearable, I then give you permission to release. The sexual energy pulsates throughout your entire body, and you burst with excitement, quivering.
Deep feelings of joy and connection are engendered as you lay gasping, exhilarated, and breathtakingly pleased with my flavor of Bondassage and the sensual healing secrets that you just tasted. Wrapped in a blanket I'm there with you as you calm down. You beam in the afterglow savoring the Adventure that we shared together.