Squirting During Sex – The First Time I Saw It Part 2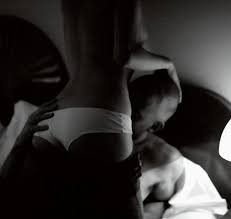 I looked down between us. The fluid continued to gush. It was as if a water hose was turned on between the two of us. It actually drenched the chair's foam. I tossed the chair in the trash afterward. We were both amazed and bewildered. Neither of us knew what it was. We didn't care either because we just had some amazing sex.
As I think about that time after learning some of the science behind squirting, the conditions were exactly right for it to have occurred. For one thing, Amina was already turned on from the roll in the hay just prior to her going to the bathroom to pee. Also, we were in a chair with her straddling me. In that position, my dick was easily able to stimulate her G-spot when she slid up and down on me. And her clitoris was stimulated by the back and forth rocking motion. I get an erection just thinking about it.
Squirting Is Not Pee:
According to the older science, when a woman is sexually stimulated, the Skene's glands (also known by other terms) fill with fluid. Click here to read about the Skene's gland. Then the vaginal contractions cause the fluid in the gland to squirt when she orgasms. The Skene glands can refill with fluid between squirts. But the amount of fluid differs for each woman because of a number of reasons.
One reason is that the size of the Skene glands differs from woman to woman. Another reason is that the size of the ducts leading from the Skene glands to the urethra also differs from woman to woman. Most women can squirt enough to notice. However, some don't because the size of the ducts leading from the Skene glands to the urethra is so small that no fluid can travel through them. Conversely, a woman's glands and ducts may be so large that she gushes. This was probably the case with Amina.
Unfortunately, many women are ashamed of squirting. Often I've had to coach and give a woman permission to squirt. It's a lovely experience for her since it requires her to have a clitoral and G-spot orgasm at the same time. Additionally, it involves up to three times more foreplay before penetration begins.
Notwithstanding the latest scientific findings, I've never thought that the fluid released during female ejaculation was urine. It has never looked, smelled nor felt like urine. Some women are concerned that the liquid is pee. To alleviate that concern I'll ask her to go to the bathroom to empty her bladder even before starting foreplay. When she feels like she has to pee she knows it's not urine.
It usually takes western science time to catch up to what people already know from personal experience.