Many women love massage. Many love BDSM, also known as Kink. What if there was a way to combine the two? Bondassage is a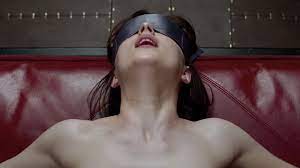 trademarked sequence of practices, techniques, and implements that intertwines sensual massage, BDSM, and other modalities such as bodywork and breath work in a uniquely erotic manner. It goes beyond having orgasms. Instead, it takes the receiver on a journey of sensual and erotic discovery that often sends the receiver into ecstasy a.k.a. subspace.
A sensual massage is an actual massage using actual massage strokes. The touch, however, doesn't stop at the erogenous zones. In fact, Bondassage gives the widely known, not so widely known, and often ignored erogenous zones plenty of attention. Most people don't realize how intensely pleasurable even the most subtle touch can become.
Note: If you are unfamiliar with BDSM or Kink click here. Additionally, there are tons of information about it on the web, classes in sex toy shops, in private clubs & dungeons, forums, etc. Also, my Bondassage practice caters exclusively to women. Thus, this article is admittedly slanted toward women.
Origins of Bondassage: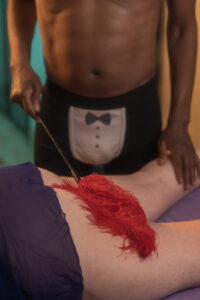 Bondassage was created in 2008 by Jaeleen Bennis, a Certified Massage Therapist. She intertwined the following elements of BDSM/Kink with sensual massage and the above-mentioned modalities:
Sensual Domination
Submission (Lite)
Sensation play
Tie & tease
Bondage (Lite)
Others
all alchemized in a languid tantalizing manner that safely leads the receiver on an exploration of the depths of sensual pleasure. The receiver need not think, make decisions or do anything except merely enjoy. Something that is easy to do since the receiver need only feel the sensations of their body and connection to the giver. The sequence of practices, techniques, and implements all come together (an intentional pun) to please the senses.
Who is Bondassage For:

Bondassage is for any consenting adult who desires to be sensually satiated. It was created for men originally and then adapted for women later. Whereas most techniques in Bondassage are common to both male and female sensibilities some are gender-specific.
It has a rich set of practices, techniques, and implements for the female body. I further adapted the ambiance, sequence, practices, techniques, and implements with many of my own sensual secrets to emphasize and nurture the sensibilities of women and the female body.
By the way, it's easier for a woman to submerge into ecstasy due to the energy of femininity. Arousing sexual energy is actually a very powerful way to tap into one's own sacred divinity. It is also the most direct way to experience a deep spiritual connection with the divine force that underlies all of creation. In fact, many ancient and indigenous cultures have/had rituals to cultivate this sexual power in order to affect the physical and non-physical world. That's why many of these cultures had a higher reverence and respect for women. Something needed more than ever in this age of rampant misogyny and abuse (physical, verbal and emotional) aimed at women.
One can experience the softer or harder side of BDSM in Bondassage. It can serve as a lite introduction to BDSM for newcomers or the harder edge of BDSM sessions for someone fully immersed in the kink lifestyle. However, Bondassage tends to gravitate towards the softer side of Kink.
Taste Of Bondassage: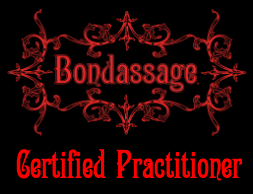 Lite, restrained, feathery lite strokes tease, sliding over the bottom of your feet to the calves, thighs, buttocks, and back up to the neck. Hands follow tenderly caressing the soft tissues of your body; kneading the harder ones.
Perfectly relaxed with Bondassage you melt with eager anticipation of what's to come next. A variety of tools are employed.
Firm caresses slowly increase the intensity of your pleasure. You begin to tense up as the touch becomes more intimate. The giver takes you right up to the edge of a release. With an ever-engulfing desire to be satiated your breathing becomes shallow. Your back arches, spontaneously moaning with passion.
Sensing that the tension in your body has become both titillating and unbearable, you receive permission to release it. With the sexual energy pulsating throughout your entire body you burst with excitement, quivering. Exhilarated with both the journey and finish line you bask in the afterglow.
Although the goal in Bondassage is the sensual and erotic journey itself, a release(s) of sexual tension inside of you is a nice climactic bonus as you come to the end of your journey of sensual and erotic discovery. Wouldn't you agree?